Aaron K. Salyapongse, MD
Board Certified Orthopedic Surgeon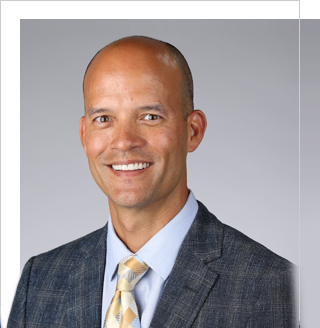 Specialties
Joint Replacement
Hip & Knee
Fracture Care
"I see each patient as an individual with unique goals, anatomy, and problems requiring a treatment plan that best meets his or her specific needs."
Credentials
Fellowship, Adult Reconstruction - Hip and Knee Surgery
Medical Director, ValleyCare Health System, Joint Replacement Institute
Fellow, American Academy of Orthopedic Surgeons
Board Certified, American Board of Orthopedic Surgery
Clinical Instructor Complex Hip and Knee Surgery Highland Hospital, Oakland, CA
Dr. Salyapongse graduated from Northwestern University with a bachelor's degree in psychology. He earned his medical degree from the St. Louis University School of Medicine and completed his residency in orthopedic surgery at St. Mary's Medical Center in San Francisco, California. In addition to providing high quality general orthopedic care (fractures, sports injuries, etc), Dr. Salyapongse completed a total joint fellowship at the New England Baptist Hospital in Boston, Massachusetts, where he trained extensively in the diagnosis and treatment of disorders of the hip and knee. He utilizes advanced techniques to address a multitude of conditions involving the hip and knee.
Dr. Salyapongse specializes in tissue-sparing techniques for hip and knee replacement surgery (including the Anterior Approach hip replacement, minimally invasive knee replacement) that provide the potential for shorter recovery times, accelerated rehabilitation, and durable, long-lasting joint replacements. He also specializes in the diagnosis of problems and treatment of patients who have already had their joints replaced. Dr. Salyapongse serves as the medical director of joint replacement at Stanford Healthcare at ValleyCare, in Pleasanton, CA.
Dr. Salyapongse is a certified instructor for Anterior Approach hip replacement. He has performed over 2000 Anterior Approach hip surgeries and travels nationally to teach other surgeons how to perform this revolutionary procedure. He is also pioneering the use of digital technology for education, rehabilitation, and recovery from hip and knee surgery. Dr. Salyapongse and his team are proud to offer an Accelerated Recovery Program (ARP) for select individuals undergoing hip and knee surgery: where individuals can recover in their own homes, without the need for overnight stay in the hospital.
Dr. Salyapongse is fortunate to have Robin Mercer, PA-C as his physician assistant.
Dr. Aaron Salyapongse featured in Arthritis Self Management
Dr. Salyapongse participates in "Operation Walk
Education, Honors, & Positions
2007 – 2020, Webster Orthopedics
Chief of Orthopedics – 2015-present. Stanford HealthCare at ValleyCare Hospital, Pleasanton, CA.
Medical Director Hip and Knee Surgery – 2009-present. Stanford Healthcare at ValleyCare Hospital, Pleasanton CA.

Joint Commission Certification Hip and Knee Replacement 2011, 2013, 2015

Treasurer Medical Staff – 2014-2016. Stanford HealthCare at ValleyCare Hospital, Pleasanton, CA.
Physician Champion 2009 - Volunteer Hospital Association West Coast Region
Clinical Instructor San Francisco Orthopedic Residency Program – 2008–present. Advanced Hip and Knee Reconstruction – Highland Hospital, Alameda Health System, Oakland CA.
2006 – 2007 Otto E. Aufranc Fellowship in Adult Reconstruction – New England Baptist Hospital
Clinical Instructor Orthopedic Surgery – Tufts University
2001 – 2006 Residency in Orthopedic Surgery – San Francisco Orthopedic Residency Program
Recipient of the 1st Annual Garnet Wynne Award 2006
Team Physician for Sacred Heart Cathedral High School Football
1997 – 2001 St. Louis University School of Medicine
Gross Anatomy Instructor for 1st year medical students – August 2000
Community Education Leader in Child Abuse Prevention Program (CAPP)
Recipient AMSA International Study Scholarship - July 1998
Participant in Community Medicine Outreach Group Oaxaca, Mexico – July 1998
1993 – 1997 Northwestern University
B.A. in Psychology
Chair of Phi Kappa Psi Events Committee
Volunteer Evanston Hospital Emergency Department
Publications & Projects
Whiddon DR, Bono JV, Lang JE, Smith EL, Salyapongse AK. "Accuracy of Digital Templating in Total Hip Arthroplasty". Am J Orthop 2011 Aug. 40(8), 395-8.
Lang JE, Bono JV, Whiddon DR, Salyapongse AK, Moezzi DM, Smith EL. "Stability of Revision Acetabular Components Using the Rim-Fit Technique". J Arthroplasty. 2010 Jan;25(1):128-32.
Lang JE, Whiddon DR, Smith EL, Salyapongse AK. "Use of Ceramics in Total Hip Replacment". J Surg Orthop Adv. 2008 Spring. 17(1): 51-7. Review.
Salyapongse AK, Van Flandern GJ, Lang JE, Bakhos N, Wurtz T, Mattingly DA. "Debridement and Component Retention for Acute Infections in Total Joint Arthroplasty: An Evaluation at a Minimum of 2 Years." Abstract to AAOS 2007.
Van Flandern GJ, Lang JE, Salyapongse AK, Bakhos N, Aghazadeh M, Mattingly DA. Design and Development of the New England Baptist Hospital Total Joint Arthroplasty Revision Database. 2007
Salyapongse AK, Hatch JD. "Advances in the Management of Medial Elbow Pain in Baseball Pitchers." Current Sports Medicine Reports. 2003 Oct;2(5): 276-80.
Salyapongse AK, Barber TC. "One Year Follow-Up of the Two Incision Minimally Invasive Total Hip Arthroplasty". (Podium presentation at the 2004 Western Orthopedic Association).
Grand Rounds and Local Presentations
Table Assisted Direct Anterior Hip Replacement - Instructor
Customized Knee Instrumentation in TKA
Primary and Revision Knee Surgery – complex cases.
Hip Resurfacing: Past, Present, and Future.
Pediatric Elbow Fractures
Alternative Bearings in Total Hip Arthroplasty
Extensor Mechanism Disruption in Total Knee Arthroplasty
Torsional Deformities of the Lower Extremity in Pediatrics
Biomechanics of the Total Knee
Brachial Plexus Anatomy and Surgical Approaches
Distal Humerus Fractures
Total Knee Arthroplasty in the Valgus Knee
Surgical Approaches to the Hip
Developmental Dysplasia of the Hip
Bone Growth and Development
Hip Arthroscopy: Femoro-acetabular Impingement
Spinal Stenosis
Treatment of Isolated Unicompartmental Arthritis of the Knee
Meetings and Courses
American Association of Hip and Knee Surgeons, Dallas 2015
American Association of Hip and Knee Surgeons, Dallas 2013
American Association of Hip and Knee Surgeons, Dallas 2011
American Academy of Orthopedic Surgeons National Meeting, San Francisco 2011
American Academy of Orthopedic Surgeons National Meeting, Las Vegas 2009
American Academy of Orthopedic Surgeons National Meeting, San Francisco 2008
Current Concepts in Joint Replacement, Las Vegas 2007
American Academy of Orthopedic Surgeons National Meeting, Chicago 2006
Lake Tahoe Knee and Shoulder Update 2006
Western Orthopedic Association Meeting, San Francisco 2004
American Academy of Orthopedic Surgeons National Meeting, San Francisco 2004
Orthopedic Memberships and Medical Licensure
American Academy of Hip and Knee Surgeons – Active Member
American Academy of Orthopedic Surgeons – Active Fellow Member
Diplomate American Board of Orthopedic Surgery

Part I Written Exam – Passed 2006
Part II Oral Boards – Passed - July 2011

California Medical License – Active
Dublin Office
4000 Dublin Boulevard
Suite 100
Dublin, CA 94568